DJI, the Chinese drone makers never fail to excite with any of their products. It always brings something exciting and introduces immensely efficient features into its latest products. We have received news of some of its recently developed products, such as the DJI Tello – the smallest, smartest toy drone and the innovative Osmo 2 mobile camera stabilizer.
DJI Tello
The DJI Tello is being touted as the smallest and smartest toy drone in the market today. At the globally popular CES 2018, the Chinese drone giant unveiled its Tello mini drone.
This is a unique offering from DJI, as it has deviated from its norms for designing, developing and producing strong, comparatively heavier drones which are excellent for commercial filmmakers. This tiny drone is set to be sold at a modest price of only US$ 100, and is an excellent choice for beginners and kids too.
Despite its small size, the DJI Tello mini drone packs some of the most impressive features available in a drone this compact. These features include mid-air flips, live-streaming video feeds and the capability to program your airframe. Apart from these features, the Tello has some of the most advanced tech integrated, thanks to IT giant Intel's contribution. This is an efficient and best choice for indoor flying. This mini drone has been made possible through advanced tech contribution from another Chinese drone maker, Ryze Tech. DJI has successfully integrated its flight stabilization technology in this mini drone, making it one of the most exciting products to bear the brand name.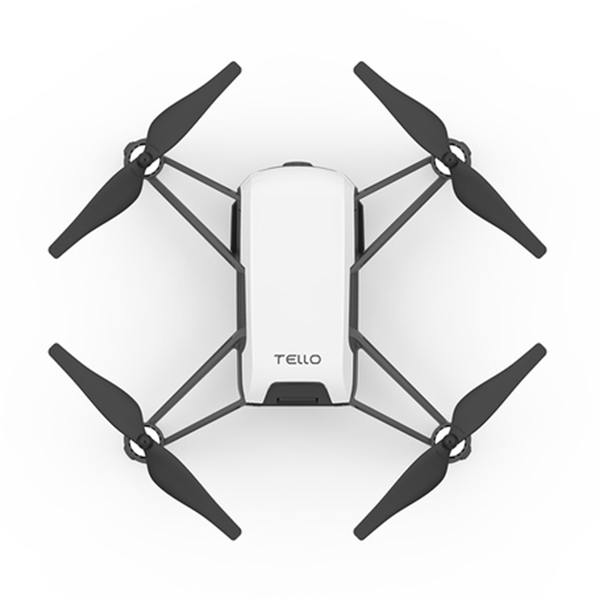 DJI Tello Design
The DJI Tello is extremely small, as compared to other commercial-grade drones, and is significantly lightweight too. It can perfectly fit in your outstretched hand and can easily settle in your palm.
Its small side aside, the DJI Tello bears stark resemblance with the other mini drone from its factories, the DJI Spark mini drone. It has a similar dual-tone look and body design as the Spark but does not have the redundant landing gear, which is solved by shifting the rotor arms as landing gear.
The smaller size makes it perfect to be flown indoors.
Features of DJI Tello
These are the extensive features that make the DJI Tello, an exciting and excellent choice for amateur drone enthusiasts and kids alike:
Dimension – 98 mm x 92.5 mm x 41 mm
Weight – 80 grams
VPU – Intel Movidius Myriad 2
Camera – 5 MP sensor
Optimum video quality – 720p
Flight time – 13 minutes
Max speed – 8 m/s
Apart from these, the DJI Tello also integrates advanced flight control interface, which includes a 'Flip' button which allows for some exciting mid-air maneuvers. Advanced flight modes also allow you to capture 360 degree videos faster with this drone. It can also be programmed with a unique flight pattern, using the advanced coding tool, Scratch which is simple and efficient to use for beginners as well.
You can get the best POV flying experience using Google Daydream VR device for smartphones.
All in all, the DJI Tello is set to capture hearts of amateur drone fliers and kids, who can easily use this mini drone to learn the appropriate skills before handling larger, and more professional drones.
DJI Osmo 2
DJI, the Chinese world renowned brand is not only known for its excellent and amazing drones, but also for its advanced tech devices, equipment and accessories.
The DJI Osmo 2 is one of the most advanced camera stabilizers available in the market today. It is lighter, less expensive and is an excellent choice for smartphone camera stabilization gimbal, as compared to others in the market. The advanced AI (Artificial Intelligence) is able to efficiently track subjects and captures excellent quality images for use in Instagram Stories and Snapchat, with an effective portrait mode.
The DJI Osmo 2 is being predicted as the product which will take camera stabilizers into the mainstream video industry. With simpler controls and smarter stabilization ability as compared to its predecessor, Osmo Mobile, the Osmo 2 is priced at a significantly lower US$ 129 only.
Design-wise, the Osmo 2 is radically new. The high-tensile Nylon material makes it not only lighter in weight but also easier to use for longer time, owing to its excellent ergonomic design. The bottom ¼ portion is the standard accessory mount, making it easy to attach on to a conventional camera tripod.
The gimbal holder is also able to program the portrait-orientation mode effectively, making it an excellent choice for generating Instagram 'Stories'. DJI has made the Osmo 2 lighter in all aspects, including simpler operating and efficient features. Redundant control buttons have been rid of and the available buttons make it simpler to operate. With the DJI Go camera app, you can use the advanced digital zoom function whose switch is located on the gimbal wand itself.
The Chinese gadget makers unveiled the DJI Osmo 2 at the CES 2018 exhibition, especially focusing on its AI capabilities. This AI is efficient for tracking subjects faster with the Active Track feature. Apart from this, the Osmo 2 is also equipped with Hyperlapse for giving excellent quality motion lapse, along with panorama and light trail photography modes.
The battery life of the Osmo 2 has been extended from 4 or 5 hours to an impressive 15 hours. The internal battery is over three times are powerful as compared to the earlier model. The battery indicator has also been added for operational efficiency.
The Osmo 2 smartphone gimbal can also act as a power pack and will charge your smartphone through its micro-USB port.
All in all, the DJI Osmo 2 smartphone camera stabilizer is a far better choice than its earlier model, with immensely extended battery life and ergonomic handle able to give you longer and more comfortable recording using your smartphone.
If rumors and indications are to be believed, DJI is set to announce the launch of several advanced and innovative products at the globally popular CES 2018.